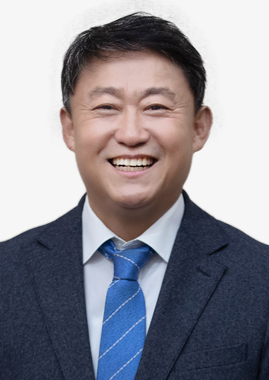 Open administration of Gunsan City Council that communicates with its citizens!
We will be a council that listens attentively to all of our citizens' small voices and always does its best for our citizens!
Gunsan City Council Chair Kyeong-gu Kim
Honorable Gunsan citizens!
This is Kyeong-gu Kim, the Chair of the first-term of 8th Gunsan City Council.
The 8th Gunsan City Council has opened thanks to the heated support of 300,000 citizens.

The first-term of 8th Gunsan City Council wills strive to become a clean council that carries out just council administration, communicative council representing the hearts and minds of citizens, symbiotic council that is mutually beneficial, and a desirable council image by realizing onsite council that practices the livelihood of citizens. By realizing the goal of 'Council that gives happiness and hope created with citizens', we will improve the quality of life of 300,000 Gunsan citizens.

Also, we will strive to reflect our citizens' intentions on the council administration as the representative body of citizens, and sincerely fulfill our own duties to create new Gunsan through just checks and balances on the executive body and rational cooperation for the development of Gunsan. Especially, we will be a respected and trusted Gunsan City Council as the true representative institution of citizens and truthful regional working group that works hard for its citizens.

All of your interest and participation become the foundation for the development of a local government. We look forward that the website of Gunsan City Council is loved as a precious space of communication accepting various opinions, and would like to ask for your generous support and encouragement.
Thank you very much.